Consultare
Con
sul
tare
Consultare means "Experts to consult" on Customer Digital Strategy, Operational efficiency, and Digital Workplace Transformation.
Explore More
Exonomy
Exo
no
my
The Innovation and incubation division foraying into digital technologies and products in the experience economy (exonomy).
Explore More
The Business(N)
BUS
INE
SS
The anatomy of Virtuos Business — Consultare: Consulting Services; and Exonomy: The Experience Economy Business.
Explore More
The Company
Com
pa
ny
Company with a team that has the explicit mission to change the world — big change, big objectives, a brand-new system never done before.
Explore More
Virtuos Logo
Architecture
The Virtuos logo is one of our most valuable corporate assets. It's among the most recognized corporate identities in the world, uniquely distinguishing us from our competitors and other companies. It's the tangible symbol of our brand, representing everything we are: our expertise, our values, our people, and our experience.
The logo is a graphic comprised of the wordmark (logotype) and figurative mark (symbol).
The lettering is created using the Danube typeface, and the artist made some improvements. The vibrant color palette chosen for symbol heart to evokes a sense of vivacity and vigour.
Use the complete logo. The only time you should use the symbol alone is on the Virtuos products or social media channels where there are other elements to help the user recognise the brand.
How to use

Virtuos Logo

The figurative mark must remain multicolor in positive and negative versions of the logo. This ensures the logo is recognisable. The wordmark varies between blue and white depending on its application. The grayscale and the monocromatic version have been specifically designed to meet some specific visual requirements.
How
not to use

Virtuos Logo

It is not allowed to alter the structure, color, proportions, elements or the direction of the logo.
How to use

Virtuos Logo on background color

You should always try to use the positive (main) version of the logo. However, when the background is the same colour as an element of the logo you can use the negative version. Avoid using the logo on a plain blue background. If thiscannot be avoided, use the monocromatic version to ensure legibility.
How to use

Virtuos Logo on background Image

Use the main (positive) version on light backgrounds. Use the negative version on dark backgrounds which do not contrast with the blue part of the logo. If the background picture is too complex, and it is difficult to read the logo, we strongly recommend using a different image. Use a solid corporate color label behind the logo if there is no other option.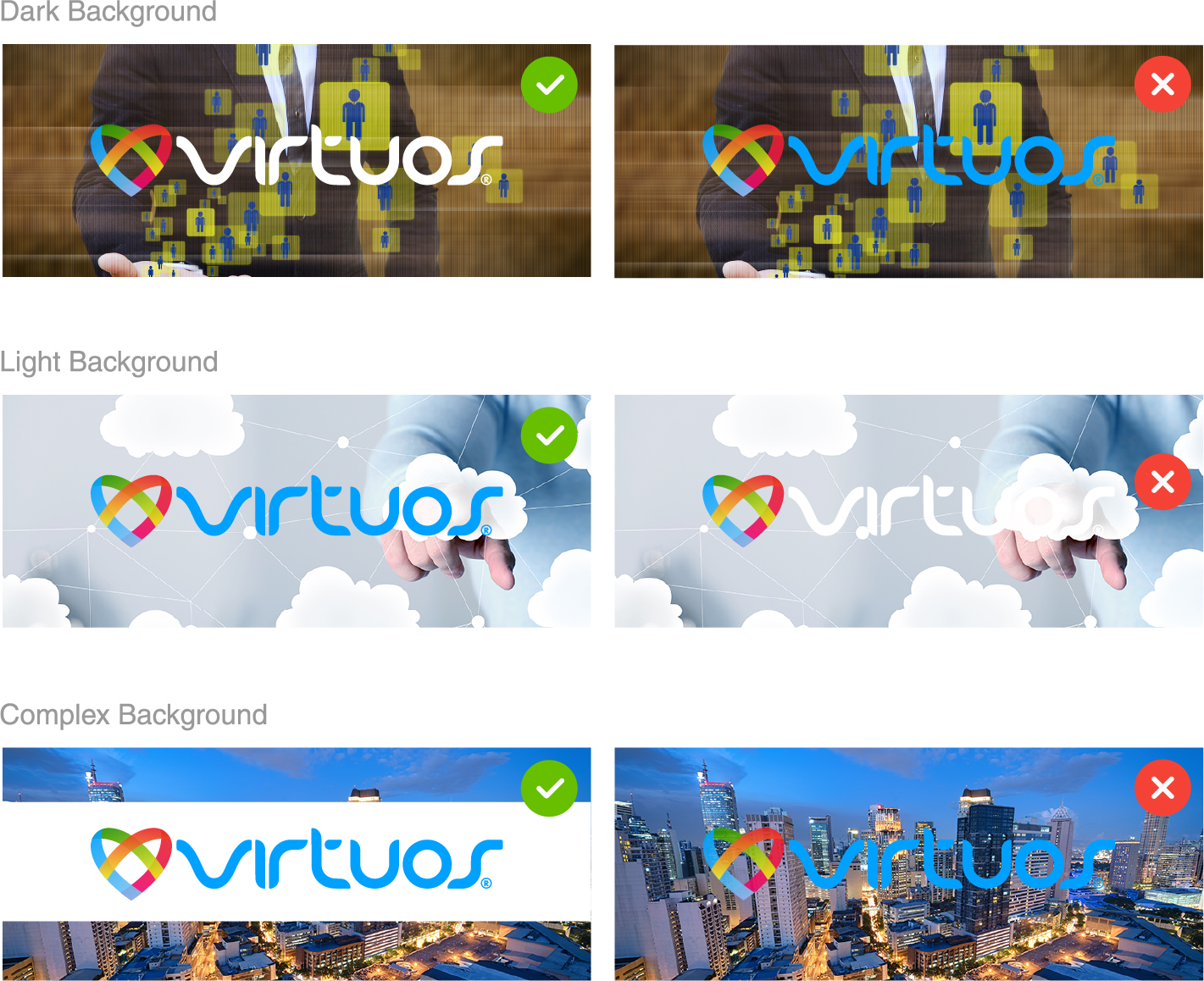 Color Palletes
Blue is the main color of the Virtuos identity so it has the strongest presence on our brand. Pink, Green, and Red (Or gradient shades) complements the Blue color, creating balance, and making the palette more distinctive and sophisticated. White balances the other colors and gives space to the elements.